History of Taj Lake Palace
Taj Lake Palace, formerly known as Jag Niwas, was a one-of-a-kind pleasure residence of Maharana Jagat Singh III of the Mewar dynasty. It was started constructed between 1743 -1746 by Maharaja Jagat Singh. Later in 1963, Maharaja Bhagwat Singh, mewar of Udaipur converted it into the heritage Hotel.
If legends are to be believed, the Palace has an interesting backstory.
Maharaja Sangram Singh received a request from his son in 1743, named Maharaja Jagat singh, that he wants to live in the Jagminder palace along with his boy's friends and women friends. Maharana Sangram Singh declined his request and mocked his son, saying that if he wants to live in an island palace, he can build one for himself. Maharana Jagat Singh took the remark seriously and built a pleasure palace on the island in 1746. The palace was dubbed 'Jag Niwas,' or Maharana Jagat Singh's residence.
Location of Taj Lake Palace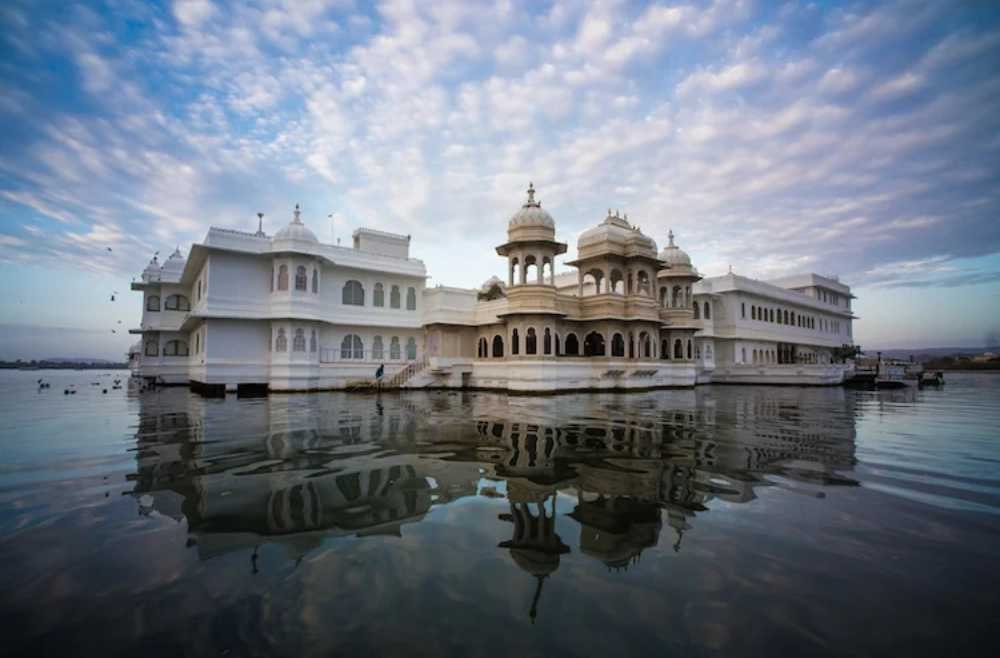 The hotel is located in the middle of the island providing amazing view of the neighboring city places, Machala Hills, Aravalli Hills, Machla Magara Hills and Jag Mandir. The magnificent setting is the ideal setting for the delicious cuisine served at Taj Lake Palace's fine restaurants, which are solely open to resident guests.
The palace serves different types of cuisines. This palace's signature specialty restaurant provides a variety of cuisines. Neel Kamal serves traditional Rajasthani and other Indian food, whereas Bhairo, which is open seasonally, serves contemporary European fare. In the evening, Amrit Sagar's bar serves unique martinis, cocktails, and a vast range of top international spirits.
Architecture & Room of Taj Lake Palace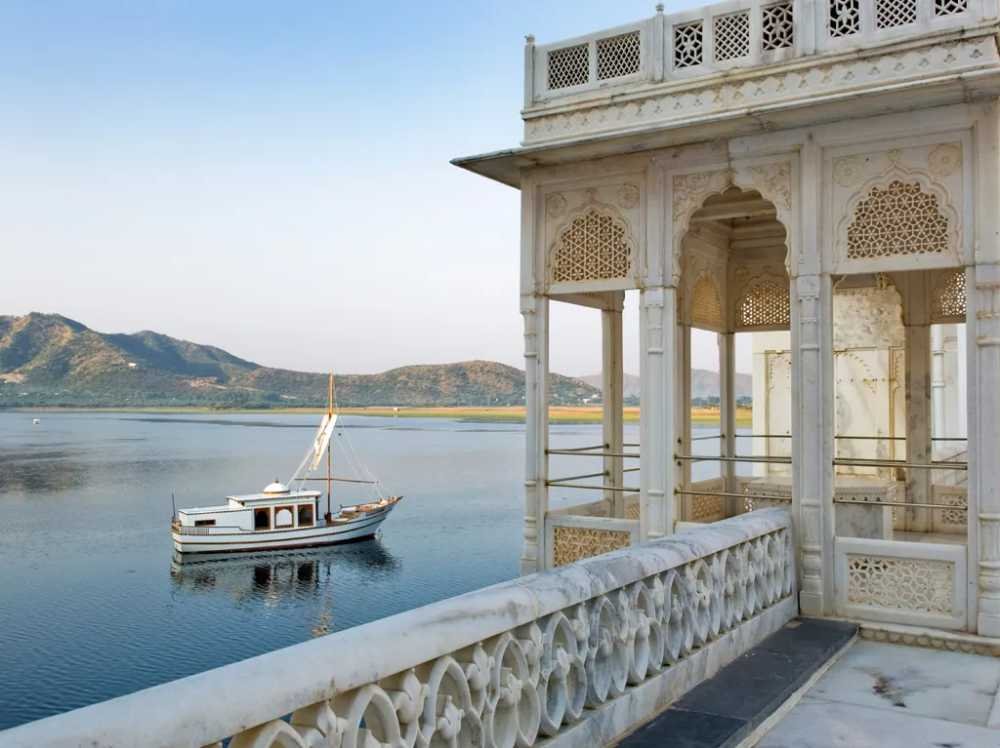 Taj Lake Palace is a structure composed of marble hauled in by bullock carts travelling 66 kilometers to Udaipur from Rajnagar.
This history hotel in Udaipur includes 65 magnificent rooms and 18 grand suites, with architecture influenced by Mughals and largely led by Mewari traditions.
When the James Bond film 'Octopussy' was shot there, this majestic palace was restored to its former splendor and became global famous.
Highlights Of Taj Lake Palace.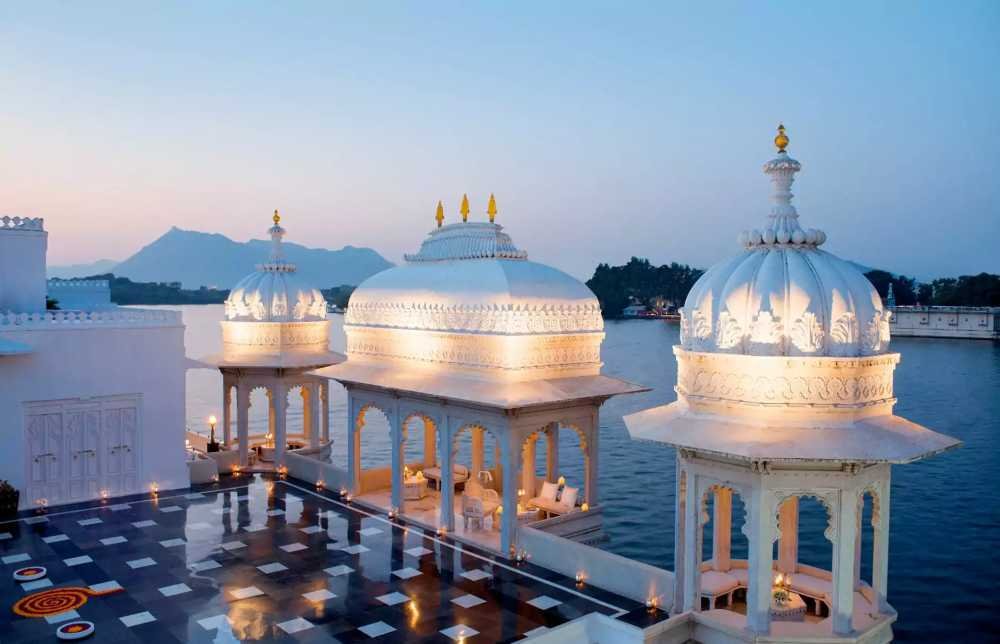 The hotel is an ancient heritage, Established at 18th Century.
The hotel is middle in the floating lake; you can get a view of different type of lake from each side of the hotel.
Exclusive Room Service
You can do various type of activities including Historic Royal Boat Dinner.
Rooms Hotel Prices of Taj Lake Palace
| | |
| --- | --- |
| Type of Rooms Name | Details/ Prices |
| Palace Room Lake View | 28-40 sq. mt, Complimentary Wi-Fi, King/Twin Size Bedroom. Contact us |
| Royal Suite One Bedroom Lake view | 53-59 sq. mt, Complimentary Wi-Fi, King Size Bedroom. Contact us |
| Grand Royal Suite One Bedroom Lake View | 74-108 sq. mt, Complimentary Wi-Fi, King Size Bedroom. Contact us |
| Grand Presidential Suite 1 Bedroom Lake View | 162 sq. mt, Complimentary Wi-Fi, King Size Bedroom. Contact us |
Conclusion
The Taj Lake palace is located in the middle of the beautiful Lake that made the Hotel the most exotic hotel in Rajasthan. The tourist attraction is immense because of its locality its ambience and different type of cuisine, they served. The Hotel is worth visiting & staying if you want to live like a king or queen for once in your lifetime.
FAQ's
Can you visit the Taj Palace without a reservation?
No. you can't visit the Taj Palace unless you have a hotel reservation. They have a strict policy about that, only the residential people, house in guest can visit the Palace.
Can we book the Taj Lake Palace room in a cheap rate?
May be you can or maybe you not, the Taj palace website launch various of offers, you can go through with that.
Is The Taj Lake Palace is worth visiting Place?
Yes, it is a money worth visiting place, if you are a fan of royal treatment it is a place you should definitely visit to get the royal treatment.