Agra is a fascinating city of astounding tombs and mesmerizing mausoleums. They all stand today as a reminder of the magnificent Mughal era. But the city of Agra is admired most for its eternal white-marble mausoleum, the Taj Mahal. Be it the bustling marketplaces or the magnificent forts. Every tourist place in Agra reminds us of the impressive Mughal legacy. Here is a list of the most famous tourist places in Agra.
The Beautiful Taj Mahal
The Taj Mahal is one of the most fascinating architectural marvels in Agra. It is entitled as one of the seven wonders of the world. What's more? It is declared a World Heritage Site by UNESCO for its intricate craftsmanship, brilliant inlays, and excellent mix of Mughal and Persian architecture. However, people see it as an epitome of eternal love and silent sacrifice.
Taj Mahal attracts visitors from all over the world who come to witness its epic artistry. The ornate arches and onion domes of the Taj Mahal look even more enchanting during sunset. The adjoining garden complex of Mehtab Bagh provides a mesmerizing view of the Taj Mahal.
Tourists can visit the place with a minimal entry fee from morning to evening. You can also capture a spectacular sunset view of the iconic Taj Mahal from a specific spot near the river Yamuna. The ivory-white mausoleum looks even more spellbinding during a full-moon night.
The Imposing Agra Fort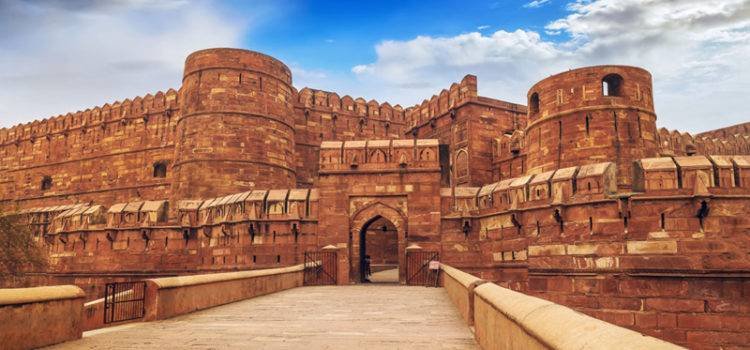 One of the finest forts in Agra is the remarkable Agra Fort. Its red sandstone walls, impressive architecture, stone-vaulted passageways, and awe-inspiring garths and gardens telltale a story of grandeur and supremacy. The palace has various iconic structures, such as the Diwan-e-Aam, Diwan-e-Khas, and the Shish Mahal. Other frequented constructions inside the fort include the Pearl Mosque and the Jahangiri Mahal.
The fort was built into a walled city and served as an imperial residence for the Mughals. It symbolizes their strength, resilience, and power. Besides, it is another UNESCO world heritage site in Agra. The fort has four gates on all four sides. However, the famous ones are Lahore Gate and Delhi Gate. You can visit the fort anytime between 6 am to 6 pm.
The Grand Fatehpur Sikri
Fatehpur Sikri represents the imperial city of the Mughals. It has grand meeting chambers, prepossessing mosques, and spectacular palaces. This abandoned city is made of red sandstone. Its imposing walls, intricate craftsmanship, and striking ambiance attract tourists from distant corners of the world. Indeed, it is one of the top tourist places in Agra that speaks volumes about the mesmerizing and frantic history of the Mughal era. Fatehpur Sikri is open for visitors between 6 am to 6 pm.
The Holy Jama Masjid
Unlike other notable palaces and mausoleums, Jama Masjid is a religious monument. It is famous for its lofty surroundings and rich architecture. It has four minarets. Around 25,000 people can say their prayers at the same time in the grand complex of Jama Masjid. You can enter the Masjid complex through three gateways.
Constructed with red sandstone, the stunning archways, lofty dome, and breathtaking tapestries add a distinct aura to the mosque. Moreover, its juxtaposition near the Agra Fort gives it a majestic appearance. It is a UNESCO World Heritage site with golden inscriptions on a royal blue background. Also known as the Friday Mosque, Jama Masjid is a must-visit tourist attraction in Agra.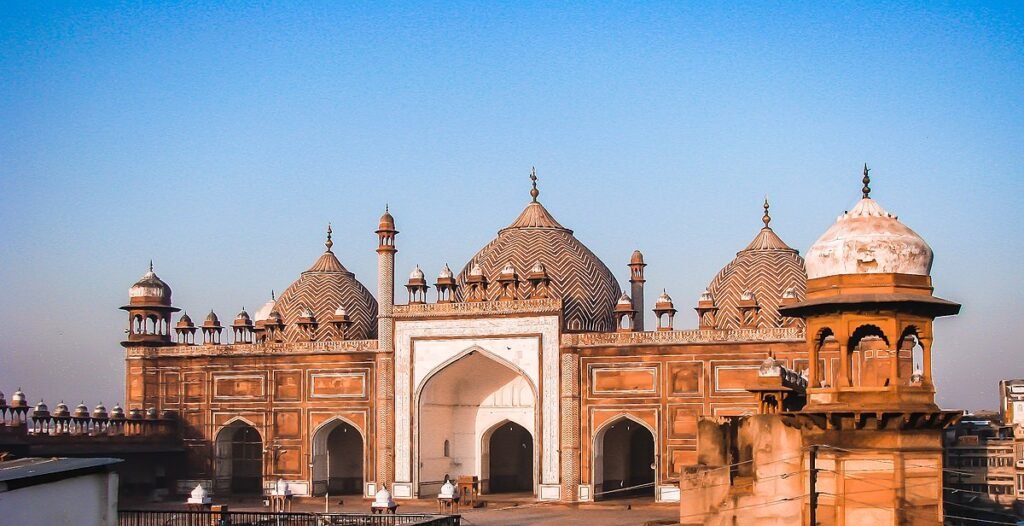 Other Notable Monuments in Agra
The Mughals carved every nook and corner of Agra with magnificent monuments and remarkable forts. Some fascinating tourist attractions in Agra include the Itmad-Ud-Tomb, Daulah's Akbar's Tomb, Moti Masjid, Sikandra Fort, Jodha Bai ka Rauza, Mehtab Bagh, and Dayal Bagh. Each one of these tourist attractions has a fascinating story to narrate about the Mughal era.
While you delve into the historical legacy of the Mughals and explore the cultural heritage of Agra, there are many more things waiting in your tour itinerary. A tour of Agra is incomplete without exploring its colorful marketplaces and tasting its signature dishes. Here is a list of things to do in Agra.
Things To Do in Agra
The city of Agra welcomes its visitors with serene surroundings, a tranquil atmosphere, greenery everywhere, and the scent of fresh air. In fact, you can easily spot local rickshaw riders lining the sides of the roads. Further, the markets are brimming with local handicrafts and hand-picked souvenirs.
Explore the marketplaces for fascinating hand-crafted decor pieces. Do not forget to negotiate the prices. Also, visit the local sweet shops for the famous petha of Agra. You can find numerous varieties that taste delicious. Enjoy a rickshaw ride through the crowded lanes of Agra. Explore the spectacular monuments and learn more about their fascinating history from local guides. You can also experience the astounding culture of Agra in the famous dance show named Kalakriti.
How To Plan A Trip To Agra?
Whether you are planning a weekend getaway with friends or a short vacation with family, Agra has something in store for everyone. It is also a favorite place for honeymooners who like to enjoy a romantic stroll through the carpeted pathways of Mehtab Bagh.
Viewing the Taj Mahal in its full glory is a sight to behold. It takes a day to explore all the palaces and constructions inside the walled arena of Fatehpur Sikri. Irrespective of your travel preferences, you can find a suitable travel plan with optimal charges at Japji Travel. We provide a door-to-door pick-and-drop facility with all our tour packages.
Further, we hire well-trained, reliable chauffeurs to ensure best travel experience. Our multi-ligual chauffeurs are well-versed with the destinations. They also serve as your tour guide to make your trip more informative and entertaining. They can advise you about the best eateries and affordable shops to pick souvenirs.
With Us, you get fascinating tour packages and memorable road trips suiting your budget and travel preferences. Select from hundreds of affordable tour packages and hire well-managed rental vehicles for your trip.
FAQs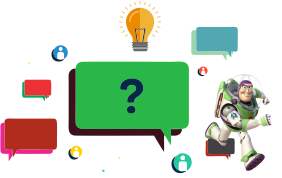 Q- When is the best time to visit Agra?
Ans. Ideally, winters are best to explore Agra. Plan a trip between October to December during which weather is pleasing and days are cold.
Q- How can I hire a guide for all the tourist places in Agra?
Ans. You can hire a guide for a package tour of Agra from the railway station or the local bus stand. However, guides are available at all monumental sites. So, you can hire them then and there when you visit a monument.

Q- What kind of cuisine can I find in Agra?
Ans. There are plenty of restaurants serving North Indian meals and typical Punjabi cuisine. Also, try the street food and famous sweets of Agra.