The Himalayas actually create visions of snow-covered, white mountains reaching toward the sky and clouds piercing them. One of the best ways to satisfy your adventurous personality is to enter the world of trekking. And the Himalayas are a great place to start. You will experience exciting and lifelong memories when you trek to the high elevations of the Himalayas.
Hampta Pass
Kedarkantha Trek
Valley of flowers
Beas Kund
Sandakphu Trek
Every year, a large number of adventurers from all over the world visit the Himalayas' beautiful scenery. You may discover various treks in the Himalayas that range in difficulty from easy to intermediate. Also, they are suitable for beginners. Here are some of the best & amazing beginner-friendly Himalayan treks.
The best Indian Himalayan Trails for beginners to explore
Hampta Pass
The Hampta Pass Trek considers one of the best Himalayan treks for beginners if you are new to hiking. Beginners should consider this walk. Because it connects the picturesque Lahaul and Kullu valleys. Moreover, it offers kaleidoscopic vistas of glaciers, alpine forests, and the mighty Himalayan Range.
Height: 14,100 ft
Best Season: June to September
Kedarkantha Trek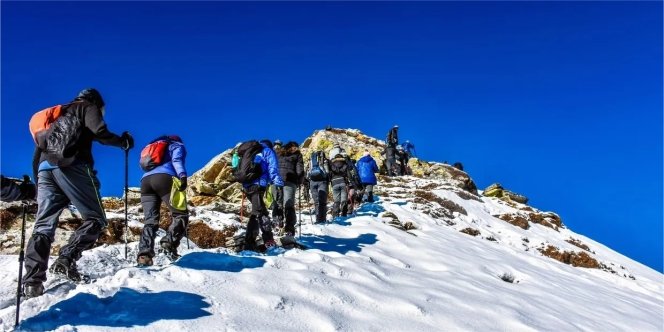 One of the most popular winter treks is Kedarkantha. It is located in the snow paradise of Uttrakhand. According to Hindu mythology, Juda Ka Talab was created from the water drops that dropped from Lord Shiva's hair. It is one of the most well-known and attractive campsites on this walk. The precise translation of Kedarkantha is "Throat of Lord Shiva." Also, the legend claims that Lord Shiva once meditated here.
In addition to its mythological past, this walk offers charming locations & the most romantic campsites. Moreover, you will see breathtaking views of mountains with varied panoramas throughout the year. It leads you via sparkling white paths, adorable small towns, expansive, spread-out meadows, unusual flora, and a snow-covered pine forest. Furthermore, the relatively moderate track of this hike allows beginners to feel the excitement of a summit trek.
Maximum Altitude: 12,500 ft
Best Season: Dec to April
Valley of flowers
One of the oldest treks in India is the Valley of Flowers. It was also designated a UNESCO world heritage site in 2002. The valley of flowers, located in Uttarakhand's west Himalayan area, warmly greets you with its unusual and exotic Himalayan flora. The Valley of Flowers trip is suitable for beginners. Also, the route is a short walk through a forested area with views of the Pushpawati River, a glacier, and waterfalls. You may fall in love with trekking after completing this hike.
Furthermore, standing at the entryway, you will notice a carpet of pink, blue, and yellow flowers spreading miles. The closer you walk, the more you will notice the unique characteristics of each flower. These include their shapes, colors, textures, and smells. Walking along a tiny path amongst those flowers is no less than strolling through heaven. Moreover, millions of exotic plants, including poppy, sedum, lilies, calendula, daisies, and many more, you can find in the Valley of Flowers.
Maximum Altitude: 14,010 ft
Best Season: July to September
Beas Kund
A well-known hike near Manali has long been to the emerald-like deep blue alpine lake tucked away among the rocky mountain peaks of the Pir Panjal range. The most amazing aspect of this walk is its breathtaking surroundings, the lush, green grasslands of Bakarthach and Dhundhi stretch over a great distance. Also, in Dhundi, you can see the Beas River, which rises in Beas Kund.
This four-day hike provides a great starting point for summit views of mountains. This you can see while trekking at a high altitude. Moreover, it is the ideal location for beginners who have never trekked before. Because of the easy gradient, beautiful views of glaciers and alpine meadows, and the towering Himalayan peaks.
Maximum Altitude: 12,772 ft
Best Season: June to September
Sandakphu Trek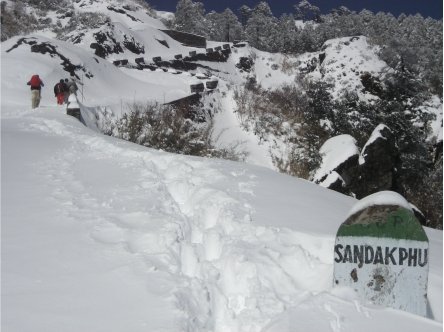 The only trip in our nation that provides a breathtaking view of the four highest mountains in the world is Sandakphu. In the state of West Bengal, Sandakphu is the highest peak. Because toxic aconite trees cover the majority of the mountain, Sandakphu applies to the pinnacle of the mountain. Also, this trip passes through the national park of the same name. It is situated in the Sangalilla Range.
Moreover, blooming red and white rhododendron, massive magnolias, primula, and silver fir trees also adorn the trip. In the area of the magnificent mountain, there are about 600 different varieties of orchids. Exotic animal species like red pandas and pangolins are also visible. Furthermore, you can see Mount Malku and Lhotse, Mount Everest, and Mount Kanchenjunga from the peak of Sandakphu. This offers a dreamlike view.
Maximum Altitude: 11,929 ft
Best Season: Mid-September to April
Outlook
In choosing which trail to begin your trekking trip on, we hope that our travel article about the best hiking trails in the Himalayas will very beneficial to you. Also, in the Indian Himalayas, there are no limitations on how far adventurers can trek. As a result, there are more hiking trails that are suitable for beginners. In the comments box, share your favorite trek memory with us.
FAQs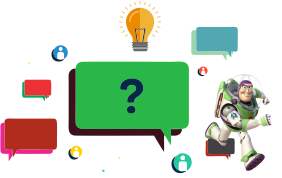 Can a beginner trek Kedarkantha?
As an easy to moderate hike, the Kedarkantha trip is appropriate for beginners. It is a circular trail that is 12,500 feet in elevation. There are a few ascends and descents on the track that beginners may relish.
Can I trek without a guide?
If you are trekking during its peak months (June, July, August, and September), you may not require a guide as there will be a lot of other hikers on the trail. However, it's advisable getting a guide at any other time of the year. You can find them in Manali or Gulaba.
How to prepare for a solo trek?
·         Begin with short hikes.
·         Pick a short excursion, like a 2-day hike, for your first solo trek.
·         Improve your fitness. Every trek you take calls for a certain level of physical fitness.
·         Learn the fundamentals of first aid and health.
·         Get the appropriate DIY kit.