Read below to find all the details you need about the Harry Potter shops, restaurants, and attractions at Universal Orlando, from Hogsmeade to Diagon Alley in the Wizarding World of Harry Potter.
About the Theme Park
At the Universal Orlando Resort, two immersive lands, the Wizarding World of Harry Potter, are inspired by the Harry Potter books and films. While Diagon Alley is located at Universal Studios Florida, Hogsmeade is located in Islands of Adventure. The two Harry Potter theme park lands are bridged by the Hogwarts Express.
The best way to move between the Harry Potter theme parks at Universal Studios is via the Hogwarts Express train. There are themed eateries, attractions, stores, and entertainment in both Harry Potter theme parks. If you want to take the train or go to both parks on the same day, you must purchase Park-to-Park tickets for Universal Studios Florida and Islands of Adventure.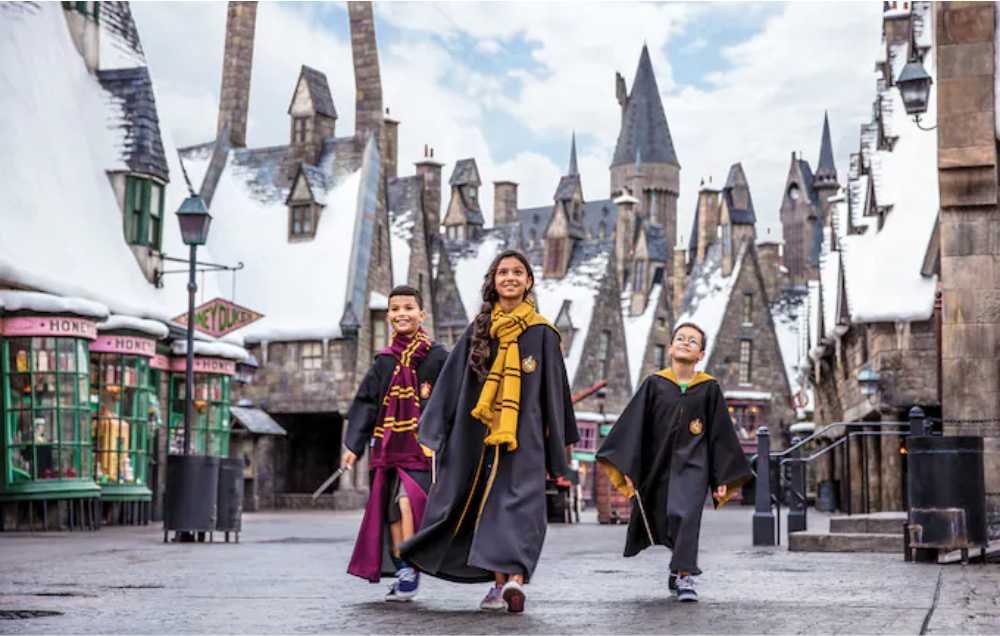 Tips for Visiting Diagon Alley at the Wizarding World of Harry Potter in Orlando
I suggest taking some time when you first enter Diagon Alley to give yourself a chance to notice all the incredible little specifics, from the intriguing magical items in each retail shop to the intriguing television ads printed on the walls.
A much more immersive experience, in my opinion, can be had at Diagon Alley in Universal Studios. Even though there is only one ride there—Harry Potter and the Escape from Gringotts—it is surreal to pass through that ordinary-looking brick barrier and enter a vibrant magical world.
In the Harry Potter books and movies, there are a lot of shops where Harry and his friends use the scarlet steam engine. These include Ollivander's Wand Shop, Borgin and Burkes, Madam Malkin's Robes for All Occasions, Weasleys' Wizard Wheezes, and others.
You can get food at Leaky Cauldron, Diagon Valley's one and only sit-down restaurant. There are numerous other places to find delectable takeaways.
At Diagon Valley, there is only one ride: Harry Potter and the Escape from Gringotts. The ability of the ride vehicles to tilt and spin, the use of 3-D glasses, as well as other special effects, elevate this Harry Potter ride above a standard coaster.
Tips for Visiting Hogsmeade at the Wizarding World of Harry Potter in Orlando
The Harry Potter books and movies include Hogsmeade Village, a charming village with a snow-covered roof near to Hogwarts School of Witchcraft and Wizardry. At the Universal Orlando Resort, Hogsmeade is a theme park located in the Islands of Adventure park.
In addition to the stores and rides there, you can observe the Frog Choir and Triwizard Spirit Rally appearances on a stage close to Hogwarts Castle.
In Hogsmeade, you can shop at Filch's Emporium of Confiscated Goods, Honeydukes, Dervish and Banges, and the Owl Post.
There is only one restaurant in this area, but Hogsmeade has two butterbeer carts and a pub. To fully experience Harry Potter, order The Great Feast, a family-style meal with all the fixings.
Savory delicacies like beef pasties and rotisserie chicken complement the Three Broomsticks' rustic charm.
Hogsmeade is the Harry Potter theme park land in Orlando where you should go if you want to enjoy rides with Wizarding World themes. Rides for Harry Potter and the Forbidden Journey, Flight of the Hippogriff, and Hagrid's Magical Creatures Motorbike Adventure are available here.
Taking the Hogwarts Express
The Hogwarts Express mimics the reddish steam engine that Harry and his friends take to get to Hogwarts from Kings Cross Station. It serves as a mode of transportation between the two parks. It also acts as a ride that incorporates elements from written works and motion pictures.
You need a Park-to-Park Ticket to ride the Hogwarts Express. It connects Kings Cross Station in Universal Studios to Hogsmeade Station in Islands of Adventure.
Depending on the time of year and the season, a 2-day pass to Universal Orlando will cost different amounts. We purchased tickets for early June 2022 for $164.00 for adults and $159.00 for children.
Conclusion
Depending on the time you have, you can visit this amazing theme park in one or two days.
FAQ's
Is there a Harry Potter theme park in Orlando?
The exclusive vacation package for the Wizarding World of Harry Potter TM. You can tour Hogsmeade village and the Hogwarts castle at Islands of Adventure. Additionally, at Universal Studios, you may enter Diagon Alley TM and take part in thrilling thrills, mystical adventures, and more.